That's because he was in on the insurrection. He knew there would be shooting. Who gave him the tip?
Congressman Mo Brooks during the rally on January 6th that led to the attack on the Capitol, was wearing body armor. He claims he got a "tip" by someone. Who?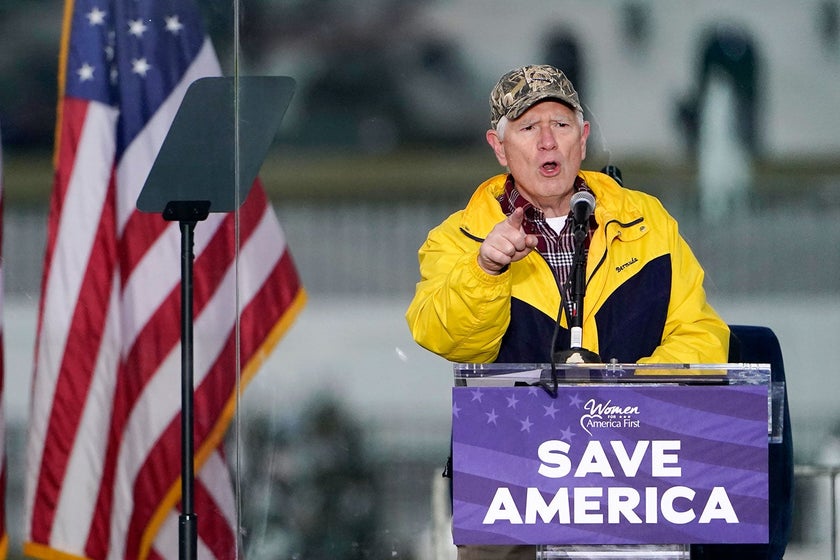 During his speech on that fateful day he talked about "taking down names and kicking ass!" Brooks was helping to incite an insurrection that he knew would end in violence.
Did Brooks warn others?:
And now Brooks could be in trouble:
The Justice Department concluded late Tuesday that Rep. Mo Brooks, R-Ala., did not warrant exclusion from a Capitol riot lawsuit that claims that the congressman, former President Donald Trump, Trump's eldest son Donald Trump Jr., and personal attorney Rudy Giuliani helped instigate the deadly assault.

The Justice filing in a lawsuit brought by Rep. Eric Swalwell, D-Calif., found that Brooks failed to establish that he was acting "within the scope of his office" when he participated in a rally prior to the Capitol siege.
Brooks is being sued for his role in inciting the January 6th insurrection:
Rep. Eric Swalwell, who served as a House manager in Donald Trump's last impeachment trial, filed a lawsuit Friday that accuses Alabama Republican Rep. Mo Brooks of directly inciting the violence at the Capitol in the Jan. 6 insurrection.

The California Democrat's lawsuit also seeks damages from Donald Trump and the former president's lawyer, Rudy Giuliani, for their roles in inciting the angry mob.
There was someone else who knew there would be violence. And he was the principle organizer: Donald Trump.
ProPublica has obtained new details about the Trump White House's knowledge of the gathering storm, after interviewing more than 50 people involved in the events of Jan. 6 and reviewing months of private correspondence. Taken together, these accounts suggest that senior Trump aides had been warned the Jan. 6 events could turn chaotic, with tens of thousands of people potentially overwhelming ill-prepared law enforcement officials.

Rather than trying to halt the march, Trump and his allies accommodated its leaders, according to text messages and interviews with Republican operatives and officials.

Pro Publica
One of Trump's biggest lapdogs in Congress, Jim Jordan, sort of blurted out that he might have spoken to Trump on January 6th. Of course, he's going to pretend his memory failed him. He was a major instigator of the 'Stop the Steal' effort. It is clear that he helped incite the insurrection on behalf of the 'dear leader.'
UPDATE: Rep. Jim Jordan confirmed to Spectrum News on Wednesday that he spoke with Trump on January 6th.

"I spoke with the president last week, I speak with the president all the time, I spoke with him on January 6th," Jordan said.

He couldn't seem to recall, however, if he spoke with Trump before, during, or after the insurrection. "Uhh, I'd have to go— I spoke with him that day after … I think after?" he stammered. "I don't know if I spoke with him in the morning or not. I just don't know. I don't know when those conversations happened. I know that I spoke with him all the time."

Rolling Stone
Brooks called for violence and that led to violence on January 6th. He should be kicked out of Congress and then arrested: