Floyd Mayweather is 'fighting' Logan Paul Sunday. It is not a boxing match. It is a scam. Please don't let them steal your hard earned dollars.
Retired boxing champion Floyd Mayweather Jr. will return to the ring in a "super exhibition" against YouTuber Logan Paul at the Hard Rock Stadium in Miami, Florida.

The pay-per-view event, which includes four fights, is scheduled start Sunday, June 6 at 8 p.m. EST, according to the event's website. The event was originaly scheduled for February but was postponed due to the coronavirus pandemic.

The bout will be available on Showtime or Fanmio, with general tickets available for $49.99.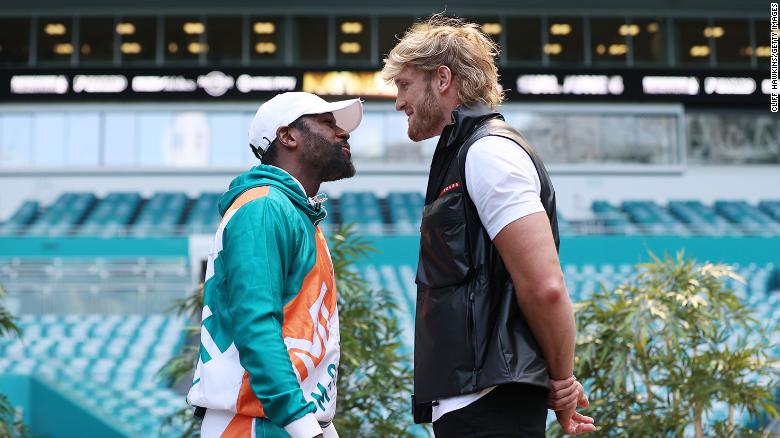 Mayweather's 'opponent' has barely fought. But apparently he is using his name recognition to get pay-per-view scam. It's insane.
Paul has fought before. He twice fought vlogger and rapper Olajide "KSI" Olatunji, with the first bout ending in a draw and a second with KSI's victory.
Mayweather last 'fought' and made lots of money in another ripoff in 2017. McGregor, like the Paul brothers, was master at self-promotion:
He retired in 2017 after defeating Conor McGregor, a fight that Forbes estimated generated more than $550 million in revenue. Mayweather earned a reported $275 million, a sum generated both from his roles as fighter and also promoter.
It's all about the money. It's also highway robbery:
Mayweather made it clear that he would only return to the ring with a lucrative offer, and that's exactly what he's getting.

The 44-year-old has admitted that he has already pocketed 30 million dollars before even stepping into the ring, and hopes to reach 100 million dollars once the pay-per-view revenue from the match comes in.

Logan Paul, meanwhile, is expected to make around 20 million dollars from the fight.
Worst of all, the media, rather than denouncing this scam, are helping to promote it. This article is the only criticism from press/media I could find:
The capacity at Hard Rock Stadium is capped at 25,000 fans and, according to Leonard Ellerbe, chief executive of Mayweather Promotions, the live event is trending toward a sellout.

"This is no more than a highly-entertaining exhibition," Ellerbe said.

Drawing viewers to the spectacle won't be a problem. By Friday, a documentary previewing the fight had already logged more than 4.5 million views on YouTube in six days, and a shoving match between Mayweather and Jake Paul at a news conference last month rippled through social media before landing on sports highlight shows.

The fight itself remains difficult to evaluate.

Paul, who will earn a reported $250,000 with a chance for several million more in incentives, faces much lower stakes.

Because the bout is an exhibition, neither man can win, technically. There are no official judges so, therefore, there will be no official decision.

But to create the impression that he is winning, Mayweather, who said he could earn as much as $100 million once he collected his cut of pay-per-view revenue, will need to pepper the bigger, younger Paul with punches. Paul, meanwhile, navigates an online world where memorable, shareable moments matter, and he only needs to land one clean punch to turn Mayweather into a meme.