But for how long. And will Trump's goons start shooting protesters. That is a real danger:
Department of Homeland Security taskforce agents were again out firing waves of teargas and throwing stun grenades against a hard core of a few hundred demonstrators in the early hours of Wednesday morning. The confrontation centered on the courthouse at the heart of several blocks of downtown Portland that have effectively fallen under the control of the protesters after the city police withdrew.

But after pushing back demonstrators, many of them kitted out in helmets and gas masks, the federal agents retreated into their courthouse citadel to mocking jeers and women who were part of the "Wall of Moms" protest linking arms and chanting: "Our streets."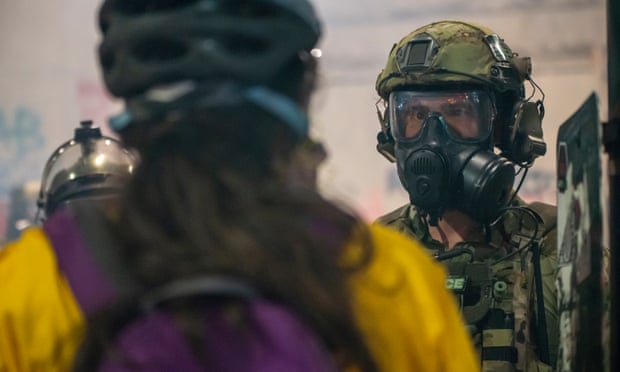 We are with you:
The people of Portland are fighting to stop fascism. They need our support. Donald Trump camp to power because of our indifference. Time to change that.
Even the Pentagon thinks Trump's antics in Portland are harmful:
Although the federal law enforcement officers who have been attacking George Floyd protesters in Portland, Oregon are not acting on behalf of the U.S. military, they have been wearing military-like camouflage. And Defense Secretary Mark Esper, according to Pentagon spokesman Jonathan Hoffman, is expressing concerns about their attire and believes the American public should be able to distinguish between military troops and police officers.

The Military.com website reports that on Tuesday, July 21, Hoffman told reporters, "We want a system where people can tell the difference. I can say unequivocally there are no Department of Defense assets that have been deployed to, pending deployment to, or we're looking to deploy to Portland."
The fight is also in the courts. We will win everywhere:
The state of Oregon is suing the Trump administration in federal court to halt what it likens to the "kidnap and false arrest" of protesters in downtown Portland, alleging that the administration's secret-police tactics are violating core constitutional rights.

In a harrowing new tactic, reminiscent of fascist regimes, armed federal officers without agency badges have begun grabbing protesters off the street, throwing them into unmarked cars and jailing them without formally arresting them, according to court records. The state of Oregon is seeking a permanent injunction to prevent what it alleges are violations of the Fourth Amendment's protections against "unreasonable seizures" and the Fifth Amendment's guarantees of due process.

Demonstrators in Portland have been protesting police brutality for seven weeks since the killing of George Floyd. The city's cops have cracked down on these protests with even more brutality, turning a small area of downtown into a nightly battle space. Typically, minor provocations by individual agitators — throwing water bottles, removing fencing, or defacing buildings — have been met with overwhelming and indiscriminate police violence against the crowds, including the use of tear gas, pepper spray, flashbang grenades, less-lethal munitions, and baton beatings.